Have you planned a fishing trip this summer? Do you want to catch fish from your favorite sea on vacation? But you are confused can you take fish on a plane? Because nothing hurts you more than leaving a fish at the airport that you have caught after a real struggle.
Bringing alive fish on a plane can be challenging. Suppose you are bringing your pet fish on a plane you need to take care of its water cabin, food, and proper oxygen. But if you take your fish with exact precautions and TSA rules you will not be disappointed. But what does TSA have to say about the bringing of fish on a plane? Is there any liquid rule applicable to fish as well? Well, dig into all the details with us. 
Can you take fish on a plane?
Before taking fish on a plane, first, ask a question to yourself. What kind of fish do you want to take live or dead? Because the rule goes different for both. To take live fish on a plane, you need to pack it in a clear, impassable, and crystal-clear container. Make sure that your fish is alive and must be moving. TSA has no restriction on water required for a fish to swim. You can have as much as your fish need. All that you need to do is to inform TSA security before boarding for visual inspection.
Dead fish is effortless to take in a carry-on bag but the packaging for it needs to be well. If you are taking dead fish with you then before placing it in your handbag, make sure that it is properly sealed. Because no one wants to sit on a plane with a bad odor of fish in the air. Dead fish smells fusty so all you need to do is to dry it completely and then plastic wrap it tightly. 

Can you take live fish on a plane

?
Yes, you can but the rules may vary with different airlines. So before planning to take fish on a plane, check whether your airline allows you or not. Because many airlines like South-west airlines don't allow you to bring fish in carr-on. And it's also not possible to hide live fish from security officers' eyes. So it's better to check before boarding. 
Here someone asked TSA if live fish is allowed to bring on a plane or not. Let's see what TSA replies.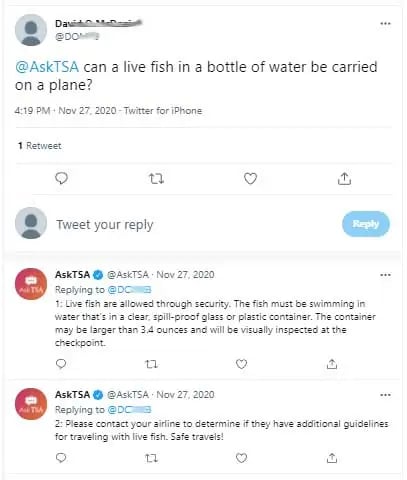 Can you take fish in your checked luggage?
Live fishes are not allowed to pack in checked luggage as it's also not possible to pack in a checked bag. Or in case, if you packed them, the checked bags are so mistreated that any live fish inside probably get injured or killed. 
However, you can take dead fish in your checked luggage. You need to do proper packaging so that it will not spoil other belongings in the bag. 
How to pack live fish on a plane

?
Rules to pack live fish are quite clear but still, we have added some additional tips for you so to make your journey hassle-free. 
Try to use breathable bags that allow the oxygen and carbon dioxide to pass through the surface but not water.

If you are using a non-breathable bag, then keep a knot loose so that air enters the bag. Otherwise, your fish can die due to suffocation. 

Try to pack one fish in one bag if they are large in size. But if you have pet fishes with you that are smaller in size you can pack more than one in a bag. 

Avoid packing live fish with you on a long flight. 

Although plastic bags are long-lasting but still put the fish bag in a hard container. So that water doesn't spill out in case it gets hit by any sharp object.

Don't feed your fish 24hrs before boarding. It will make your fish stay fresh longer. 
Can you bring a betta fish on a plane?
Yes, you can take betta fish in your carry-on luggage. The rules of packing betta fish go the same as for others. You can't pack betta fish in checked luggage.
Can I take aquarium fish on a domestic flight?
Yes, you can take aquarium fish on a plane. But it depends on the airline through which you are traveling. Usually, domestic flights don't question or restrict you from bringing the live fish on a plane. Fill the fish aquarium to one-third of the total volume of the container and put your fish in it. You can double wrap the fish bag to secure spillage. 
How to bring frozen fish on a plane

?
You can have your dog for free on a plane if you take it inside the dog carrier with you straight in the plane cabin. This way, your carrier will be considered as your Carry on and will not be considered extra for payment. Although this method is free of cost, however, this is only valid for the smaller dogs that can easily fit beneath the seats of the cabin.
Conclusion
Can you take fish on a plane? Yes. Now after reading the above details you might be thinking packing fish on a plane is not as tough. You just need to be properly aware of your airline and packing tips to pack the fish. If this article helps out you. Comment below. We are looking forward to you. Have a safe journey.