In this mechanical world, everyone is busy making their future bright. People are doing day and night jobs to compete in the world's race and fulfill their dreams. The computer is not a machine. It is a world where you can do anything without being physically present in your workspace.
 If you are traveling from one destination to another, think about can you bring a computer on a plane or not. Are you not aware of the rules and regulations? Don't worry. We will discuss everything about how to pack a computer in your carry-on or bring it through airport security below.
Can you bring a computer on a plane?
The short answer is yes. You can bring a computer on a plane. TSA is allowed to bring a computer in both your carry-on and checked-in luggage through airport security. It's not difficult to fly with a desktop computer. Just stuff it in a suitcase, and you are ready to go.
However, getting it to your destination in working order may require more planning, especially if you plan to bring a monitor with you. What are those plans? Let's dig into requirements for flying with computers and packaging suggestions to ensure that you can boot up after landing. But before that, let's look at what TSA's official website says about it.

How to Pack a Computer for traveling on a plane?
There's no reason you can't bring a desktop computer box in your carry-on or checked luggage in terms of security screening. The only condition is that if you are flying with your computer in a carry-on bag, you must remove it from your luggage and place it in a bin separate from the x-ray screening. 
You must know the rules while packing because if you don't pack it as per TSA limitations, it may cause a hassle during screening at a checkpoint.
Can You Take Computer Parts On a Plane?
Yes, you can take any computer part on a plane like a monitor, keyboard, mouse, or speaker separately. Many people traveling with PCs disassemble their parts to pack them easily. TSA doesn't have any limitations on computer parts in either checked bags or hand luggage. Here is the screenshot from official TSA website about bringing of disassembled part of computer on a plane.

TSA has also shared its official statement on its Twitter account. Let's see what the statement is.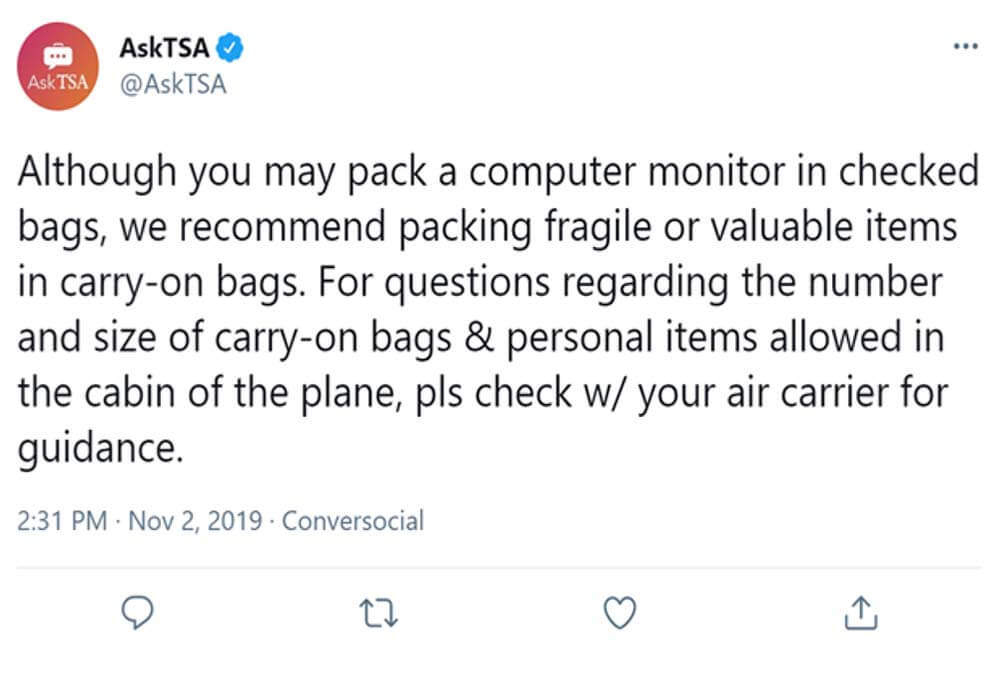 Can You Bring Computers in Checked Luggage?
According to TSA, yes, you can bring computers in your checked luggage. But it is a very challenging process, especially the packaging. The monitor can damage during boarding if not packed properly in checked luggage. You have to make sure that your PC or its parts are packed enough that they don't get damaged by a small hit. Even if the packing is complicated, bringing a computer in checked luggage is recommended instead of hand luggage. 
Can You Bring Computers in Hand Luggage?
Yes, you can bring computers in your carry-on bags. Infact, it is much better and more secure than bringing it in checked luggage. This way, you don't need to be worried about it being thrown or broken during the flight. But if you are bringing it in checked luggage for some reason, you must put it in an extra bin for screening due to safety issues.
For your easiness, we have listed down the PC's, their sizes and the airlines restrictions for them.
Super Towers: These computers are extra large in size that they can't be packed in hand luggage. The common size of the carry-on is 22*14**9 that you can bring on a plane. So super tower computer will not be fit in these dimensions.
Mid Towers: If your PC is of mid tower size then it can be packed in your hand luggage. But it depends the size of carry-on luggage, airline allowed you. Like the Southwest, Frontier and Spirit airlines have the larger carry-on size so you might pack your mid tower PC in it. Keep one thing in mind, you have to pay fee for bringing larger hand luggage.
Mini towers and Other small PC's: Packing mini towers in the hand luggage is the best option. You just need to keep your bag under the common size limits. If your bag is filled with the mini tower, then you can't take other essentials on a plane and you have to check them.
Before packing PC, you just need to check the airline's size limit for hand luggage and your PC's size. If they both fit, then no one can stop you from bringing PC on a plane.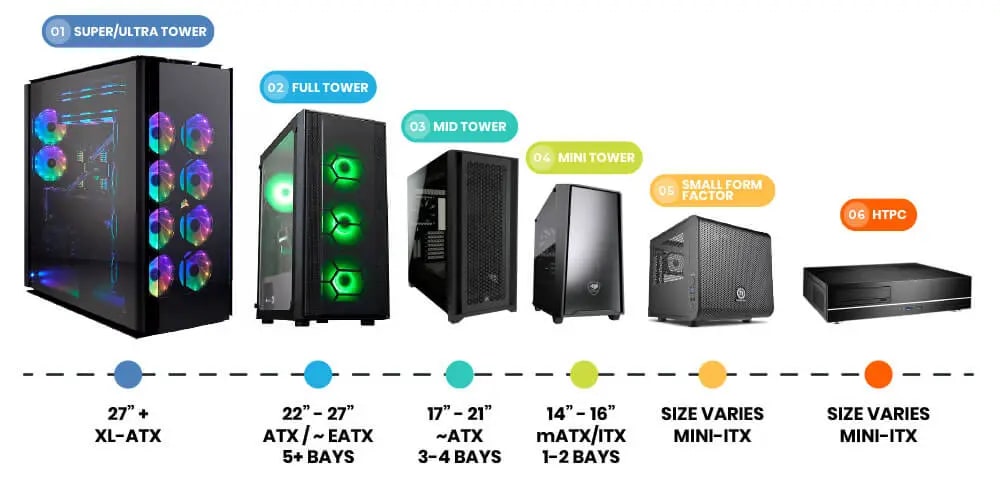 Can you bring the computers on a plane through airport security?
Yes, you can bring it on a plane through airport security. When taking your computer through airport security, you must either have it in a so-called "checkpoint-friendly" bag, or you will need to separate it from your luggage entirely. If you need to remove it, place it in a scanning bin to go through the X-ray machine.
Are Desktop Computers Allowed on International Flights?
When it comes to international flights, we don't find anywhere that any of them restricts desktop computer in carry-on. It is better to pack desktop PC in hand luggage rather than taking it through cargo. But make sure that you fulfil all the TSA requirements.
Still, if you are not sure if you can bring it through international flight or not, it's better to check the airline's rule.
David asked TSA whether he can bring monitor in a carryon or not. Let's see what TSA has replied him.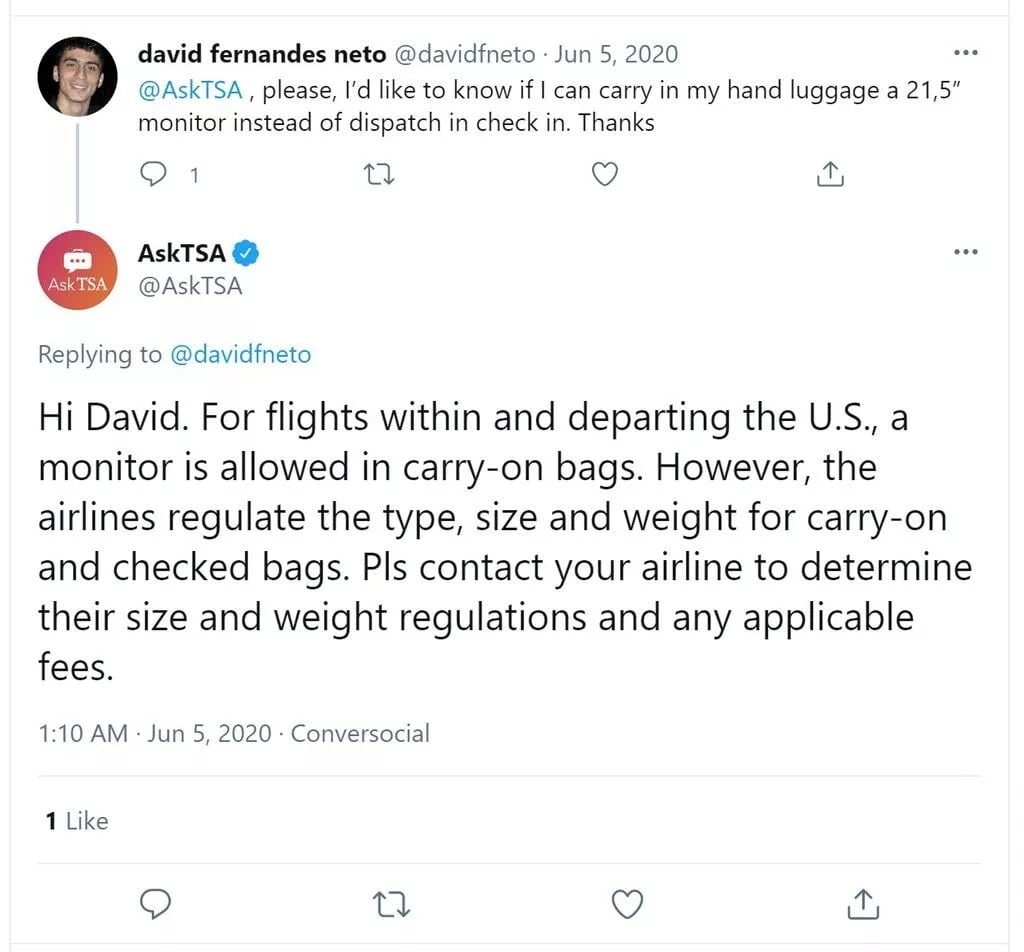 Also, Read
Can you bring a laptop on a plane?
Our final Verdict
In this post, we have discussed that can you bring a computer on a plane or not. So the answer is yes. You can carry it in your luggage or carry it on with careful packing. TSA allowed to carry it on a plane. The major issue that you can face is security and safety. 
Desktop computers tend to be large and bulky, whether you take them with you on your carry-on or decide to check them in. You also need to stay within the size and weight limits. So look at the complete information discussed above for a safe flight.